Reading time: 3 minutes
Change in practically all areas of our lives is taking place at an unprecedented speed. In the field of CD management and brand management, too, it's called: Welcome to the VUCA world.
The acronym VUCA summarises the four central phenomena of our time in one term:
1. Volatility - nothing is permanent
2. Uncertainty - uncertainty makes reliable predictions impossible
3. Complexity - the complexity of the world is increasing by leaps and bounds
4. Ambiguity - contradictions take the place of simple answers
Brands in confusing times
The German Brand Monitor 2019/2020 shows that 85% of the 300 decision-makers surveyed attribute a "high relevance for corporate success" to the brand. No wonder, many successful brands set an example. After all, they prove that an appearance based on differentiating brand messages can make companies a successful fixed point in the market environment even in confusing times.
But how do companies manage to make their brands stand out in this environment? It is essential to understand reference groups as precisely as possible, to know when and where they are located, and through which points of contact the brand can get in touch with them. It is about building trust and long-term relationships. This in turn requires a concerted approach and means: brands need leadership. If you examine successful brands, you find that brand leadership is a core strategic discipline for these companies. And the discipline is finding its way into companies of all sizes. This is due to the fact an essential realisation is evolving: in a maximally transparent, global market environment of increasingly similar offerings, the brand makes the difference.
---
Die Brand management has a direct influence on the success or failure of a company.
---
How do you manage a dynamic CD system?
But how do I manage my brand and its visuality? In the digital world, many formerly fundamental rules in corporate design are overridden and the demand for the design and maintenance of a functional visuality is constantly increasing. CD management is therefore no longer concerned with the mere recognisability of a company. Through maximum flexibility, corporate design must enable different communication contexts and dialogue with the reference groups and think them through communicatively during development.
The answer to
VUCA is VUCA
The times of strictly defined, static CD rules and regulations are over. What has taken their place? Great freedom? Or are there still limits to design? VUCA also provides an answer, albeit decoded differently: With vision, understanding, clarity and agility.
---
In order to be successful in the future, brands need a clear identity and a broad, lived understanding within the company, consistent communication in all directions as well as a simple and agile design and technical basis.
---
Principles instead of rigid rules
Especially in the development of digital applications, flexible design principles prove their worth. At a time when more and more media and applications are being added, they are what ensure the big central idea. And they make flexible and manageable the small basic elements with which the brand communicates.
---
»Digital First« equires the courage to condense and simplify.
---
With modular design principles, brand managers act more like curators: A clear positioning and guiding idea form their guardrails for the brand. The various small elements are then developed from the brand core and a clear attitude.
These elements include not only the logo, colours or typeface. They also include the interaction or animation behaviour as well as the tonality. Together, all these elements essentially determine the character of the brand. Together they form a construction kit that can be used as needed, allowing the necessary degree of flexibility at any time. Depending on the application and occasion, this construction kit can be recombined again and again. It offers a multitude of freedoms and is nevertheless consistent and recognisable. This flexibility makes it possible to be prepared for future eventualities.
Brand processes are change processes
A modular design system or a complete CD style guide are important milestones, but the actual work in the process is not done with them. The mere existence of a style guide or brand portal, no matter how good, does not make people want to use it extensively and willingly. A lack of meaning also keeps people from getting excited about new things. Often the right activation of the developed principles is missing.
Turning those affected into participants
In the entire phase of CD development, revision or documentation, all important stakeholders should be informed, involved and thus intrinsically motivated at the right time and with the right intensity. They should become partners who actively carry the new ideas into the company and advocate them with conviction. Already in this phase, it is a matter of safeguarding the investment made or planned in what often takes months of work with design, workshops and coordination rounds and with countless participants.
---
A tactically smart implementation is not a single event at the end, but starts with strategic planning for the coming months and a precise participation strategy at the very beginning.
---
We are convinced: A clear positioning and a scalable guiding idea make a brand future-proof.

The decisive success factors in brand and change projects are consistency, scalability and flexible application principles as well as cultural and technical implementation.
Haben wir Ihr Interesse geweckt?
Wir freuen uns auf den Austausch mit Ihnen!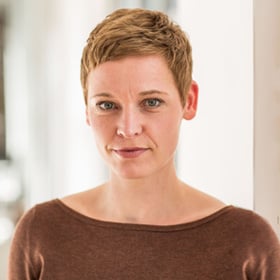 Susanne van Dyk
Business Development