Holistic Brand Management
Together with you, we ensure the perfect
interplay of all brand experiences.
This is how we create a high-performance brand and
ensure your companies success.
Our goal is to work with our clients to create brands that have a reliable impact in today's markets and in times of change.
We call that Brand Performance.
Together we create results that convince with technical excellence, manage complexity, and put people at the centre.
To achieve this, we use our expertise in brand strategy, design, communication, technology, management and 40 years of experience.
Brand Strategy
The brand strategy is derived from the corporate goals. It defines the promise, the character, the positioning and the added value of those goals, and results in an inspiring brand idea.
Design
Good design is understood intuitively, and can be adapted in a modular way. It combines aesthetics, emotion, and functionality so that your brand moves and creates value at all touchpoints.
Communication
A brand must create experiences to have an impact. It should deliver the right message, at the right time, in the right place. Emotionally and in terms of content.
Technology
In an increasingly complex world, brands need technical excellence. Brand experiences need to be cross-channel; they need to touch and be easily accessible for the customer.
Management
Security in processes and the efficient use of tools and methods are critical success factors. Only with them can you create an adaptable and thus future-oriented brand management.
WIRHUB: The wirDesign Hub
Make Tools. Not Rules.
Strong brands need innovative brand management. With wirHub – the wirDesign Hub – we have implemented an interactive brand portal. The brand management system we developed provides intelligent tools that help designers, sales staff and marketing managers to manage and design communication media.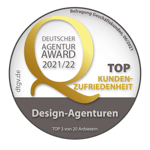 German Agency Award 2021/22
Top customer satisfaction
Rank 3 for wirDesign: a top ranking in customer satisfaction among design agencies.
awarded
wirDesign in 7th place among the largest design agencies
Compared to the previous year, we were able to improve by a full 4 places and even slightly increase our sales despite the crisis and keep our headcount stable.