Making Your Brand Perform
Target-oriented brand management results from the perfect interplay of brand strategy, design, communication and technology. The management and activation of the processes play an active role in this.
Brands With Added Value
The real value of a brand can be seen in how it creates value itself. For companies. For people. For the world.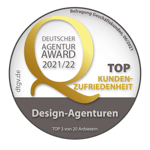 German Agency Award 2021/22
Top customer satisfaction
Rank 3 for wirDesign: a top ranking in customer satisfaction among design agencies.
awarded
wirDesign in 7th place among the largest design agencies
Compared to the previous year, we were able to improve by a full 4 places and even slightly increase our sales despite the crisis and keep our headcount stable.
Climat
Leaders for Climate Action
wirDesign has been climate neutral since 2020. Climate protection concerns us all. That's why we offset our CO₂ footprint and work on concrete reduction measures to become more sustainable step by step.