Reading time: 4 minutes
Put an end to your
»gut feeling«!
What options are available to brand managers to make branding and marketing activities more efficient and consistent when, at the same time, communication channels are exploding, marketing expectations are rising and costs need to be kept under control? Marketing automation is one approach to a solution in this context. We spoke with Torsten Michel, wirDesign's Chief Technology Officer, about the meaning, objectives and challenges of automating brand-relevant content.
People often talk about unique brand experiences, customer centricity and the perfect customer journey – how does that fit with technical topics like process automation?
Perhaps we first have to clear up a few misconceptions. When it comes to marketing automation, we are talking about linking various digital touchpoints such as websites, social media channels, ad campaigns, blogs or newsletter instruments via a central tool. It is not about inspiring visitors towards websites, shops and company offers with machine-generated content. Rather, the idea is to use technical tools to better evaluate the efficiency of marketing tasks, to check them and then to output them optimally. That is the essential factor. If I don't have technical tools that give me conclusions about whether what I'm doing with my brand is working, then I'm making assumptions. The better starting position is to be guided by verified facts instead of having to guess, based only on instinct or »gut feeling«.
What are the advantages?
The advantages of marketing automation are different. On the one hand, measurements of success of the applied marketing measures can be carried out on the basis of key figures. This data can then also be used for future marketing concepts. On the other hand, marketing automation enables more efficient processes by automating routine tasks. Here, the individual instruments can be better aligned and coordinated. The optimisation of personalised communication with potential customers is another advantage.
---
»Every brand is better supported by technology«
---
Does that mean whoever creates a brand today has to understand a lot about technology?
I think every brand is better supported by technology. If the goal is to meet customers at all touchpoints with a consistent brand-typical appearance in terms of visuality, message, behaviour and a consistent offer, then I have to define in advance what that means. Then I can develop key figures that I can use to measure success. I use the evaluation for future marketing concepts. Furthermore, marketing automation is used for planning and executing marketing strategies. With software support, the necessary instruments can be better aligned and coordinated. If I have an idea of what my brand should achieve, I can control it accordingly. And in order to control a brand in a more targeted way, it is necessary to have the appropriate technology available.
---
»My dream: a dashboard for the brand«
---
This is where areas that otherwise did not have so many points of contact are increasingly come together. Do IT managers now need to get a better understanding of the brand and do brand management and sales need to learn more about technology?
I think it would be helpful anyway if everyone involved in the success of the brand moved closer together. After all, every position provides important data that can be evaluated. That is where the topic of interfaces becomes important, to see how to bring it all together best. One of my dreams is to have a dashboard where I can see how my brand is performing. I can collate the data together, analyse it and the more often and specifically I do that, the better I understand my brand. Currently, the affinity of the various contacts is still a bit mixed. Here we can build bridges with our technology and brand expertise and get different departments on board.
---
»It's important to get IT on board.«
---
When it comes to introducing new technologies, it is often the IT managers who do not like to expand the system landscape …
That is only understandable. One must not forget that IT has a very responsible task, for example security, data protection and related issues. A very important point is to get IT on board and explain the benefits of the marketing automation measures. If you can only do that on the basis of a white paper, then that is not really helpful. In general, it is advisable to get all those involved who work with the relevant systems around the table and discuss what the objectives are.
Is marketing automation also a change topic?
I think so. Work areas that used to be further apart are moving closer together. Employees have to rethink and ask clearer questions: How do I personalise well? How do I find out where my content is best placed on the website? Do I have user actions that I should track better? Do I have forms that intelligently collect data for me? The question of "What do I want to achieve?" is becoming more and more important and basically concerns everyone who wants to have control over how their output works.
Which marketing automation system does wirDesign have experience with?
wirDesign supported YPOG – a law firm specialising in tax and business law – in moving to the Hubspot marketing automation platform after a re-branding process. Our client's new website is completely realised in the Hubspot CMS, as is the blog. In addition, YPOG now manages its social media and newsletter communication via Hubspot. This allows the company to perfectly integrate and centrally manage various marketing communication methods such as content marketing, social media marketing and customer relationship management. In the course of the project, wirDesign became a Hubspot Solutions Partner.
---
»It's not about automating the brand experience.«
---

For whom is marketing automation recommended?
Marketing automation is interesting for all those who are looking for solutions to problems when it comes to brand inconsistencies and resource shortages, and for all those who need a number of channels to spread marketing and communication impulses. What is good to know is that a brand automation platform does not automate the brand experience. It facilitates branding by creating the right communications, personalised and delivered through the right channels. In my opinion, the interplay between marketing automation and digital brand management can significantly move companies forward.

Torsten, thank you very much for the interview!
Would you like to discuss this topic further? We are looking forward to your message.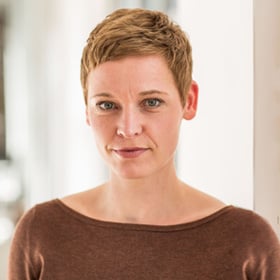 Susanne van Dyk
Business Development